Paper Industry

Vail custom roll covers keep more money in your operations.
Let's face it. You rarely save money when you constantly recover your paper mill equipment rolls. That's why the lowest-priced roll cover isn't necessarily the "best buy." To really save money in your operations you need to significantly increase the run times between roll recovering. Come to Vail roll specialists for:
Knowledge to help you improve your papermaking process without compromising your quality out-the-door
Cost-control insight
Custom rubber and special compound formulation expertise that last longer, perform better
Dedicated field support and FREE onsite roll analysis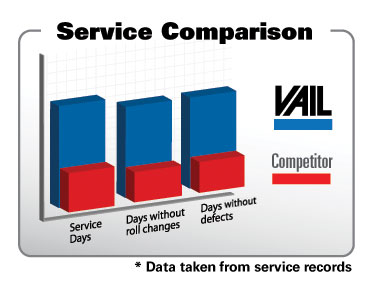 When you do need to repair or refurbish your rolls, no one offers more timely turnarounds than Vail.
Besides having no money to waste, you have no time to waste in the pulp and paper industry. So when your roll covers do need repairs or refurbishing, turn to our St. Joseph Service Center or Mobile Service Center. Our quality workmanship will earn your confidence and our timely deliveries your repeat business. Contact us whenever you need:
Roll grinding
General roll repair
Suction roll rebuilds
Headbox apron and top slice up refurbishment
Variable crown rolls
Spare parts
You may be familiar with our products under the following names:
| Tradename | Position |
| --- | --- |
| Insul 250 | Wire Rolls |
| Ebonite | |
| Black Rock | |
| Temp Rock | |
| | |
| Ni-Chem | Cylinder Couch |
| Ni-Chem X | |
| Couch Coat | |
| Poly-CC | |
| Top Tex | Extractor (110 P&J) |
| | |
| Near Rock | Drive Rolls |
| Vail-Mate II | |
| | |
| Long Lease I | Lumpbreaker |
| Long Lease | |
| | |
| Vail-Press I | Suction Press |
| Vail-Press II | |
| | |
| Drill Press | BD Press |
| Drill Press II | |
| | |
| Vail-Mate G II | Grooved Press |
| Vail-Mate G | |
| | |
| Emerald Stone | Hard Press |
| Emerald Stone II | Hard Size Press |
| Emerald Stone III | Hard Breakerstack |
| | |
| Top-Lease NIBR | Soft Press |
| Emerald-Mate | |
| Ultramate | |
| | |
| Emerald Mate | Soft Size Press |
| Emerald Mate | Soft Breaker Stack |
| Vail-Size | |
| Ultramate | |
| Maxcoat | Coater Rolls |
| Blue Coat II | |
| Blue Coat III | |
| Vail-Coat | |
| | |
| Poly-Cast Plus | Coater/Size Press |
| | |
| Silk Lease | Leadout/Leadin |
| Silk Lease II | |
| Silk Lease III | |
| | |
| Maxsize | Hard Size |
| | Hard Breaker Stack |
| | |
| Poly Dry | Dryer Felt Rolls |
| Vail-Therm | |
| | |
| Reel Rock | Reel Spool |
| Polymate | |
| | |
| Chemshed | Sludge Press |